Lithuanian experts awarded prizes and evaluations in the European Forum of Professional Higher Education in Romania
2023-06-15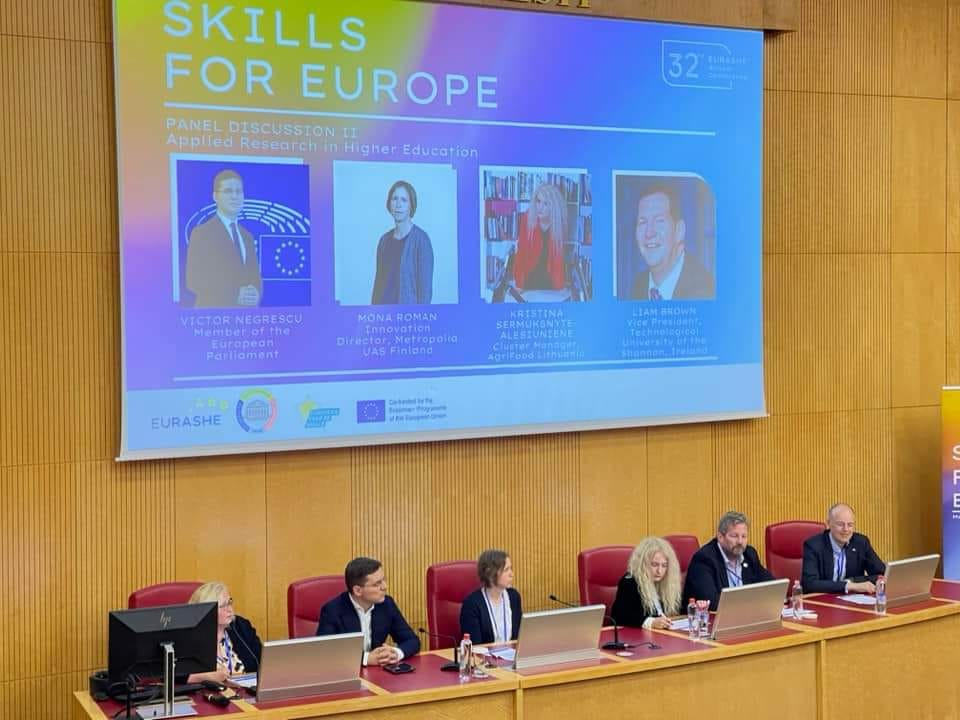 The year 2023 was announced as the year of future competences, so the 32 nd annual EURASHE conference was dedicated to the topic "Skills for Europe: Mobilizing Higher Education for Resilience and Digital Transformation." From 8 th to 9 th June experts from various countries gathered in Bucharest, Romania, to discuss the needs for future skills and emerging challenges.
Lithuania was actively represented in this international conference by two experts: Dr. Nijolė Zinkevičienė, a member of the EURASHE Board and Deputy Director for Science and Partnership at Vilniaus Kolegija / Higher Education Institution, and Kristina Šermukšnytė-Alešiūnienė, the AgriFood Lithuania DIH Manager, the Best European Cluster Manager of 2022, and a member of the Vilniaus Kolegija Council. Both professionals in their respective fields made a significant impact at this year conference.
Dr. N. Zinkevičienė, a long-standing member of the EURASHE Board, is deeply involved in the most important issues of professional higher education: mission of professional higher education, quality of higher education, modernization of professional higher education in diverse higher education institutions, and research, development, and innovation. Therefore, she was entrusted with moderating the first day of the conference. The Participants actively discussed various topics, such as shaping the future competence policies in Europe, the labor market and industry cooperation, applied research in professional higher education, and successful university partnerships.
On the second day, Dr. N. Zinkevičienė and her colleague Ruth Moran from Athlone Institute of Technology (Ireland) delivered a presentation "RECAPHE: Collaboration Process for Developing Tools to Strengthen Research and Innovation Competencies in Professional Higher Education." This presentation received the conference award "PHE Star Award – Research and Innovation Competences."
In turn, K. Šermukšnytė-Alešiūnienė participated in the panel discussion on "Applied Research in Professional Higher Education." It was the first time a representative from Lithuanian business participated in the European Forum of Professional Higher Education. Her insights and experience greatly enriched the discussion.
As noted by a conference participant, all stakeholders must strengthen their collaboration to effectively address emerging challenges. Various studies show that the European Union is already facing a shortage of skills among workers. Considering the rapid development of the latest technologies such as artificial intelligence and data analytics, over 40% of jobs will require higher skills in the near future. However, more than 80% of talent development professionals already report a shortage of skills in their organizations.
Businesses face significant challenges, and applied sciences universities, in collaboration with various industry sectors, can help improve and retrain professionals. Moreover, institutions of professional higher education can contribute practically to business growth by becoming research platforms for small and medium-sized enterprises.
EURASHE (European Association of Institutions in Higher Education) is the most significant association of professional higher education institutions in Europe. It brings together and represents European professional higher education institutions, national and sectoral associations of higher education institutions, and other organizations.