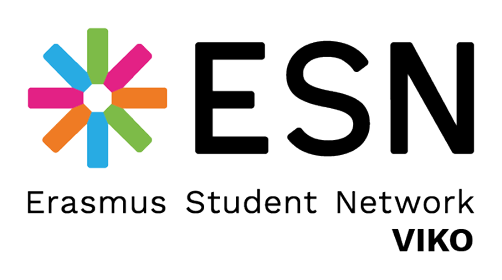 Buddy system
ESN VIKO Buddy System is a great network which helps to connect students around the world.
Erasmus Student Network (ESN) is a non-profit international student organisation. The mission of the ESN is to represent international students thus providing opportunities for cultural understanding and self-development of the students under the principle of Students Helping Students. Its goal is to support and develop student exchange on a local, national and international level. ESN unites around 13,500 members in over 530 local sections in 40 countries in higher education institutions, including universities, polytechnics and university colleges. The network offers its services for about 160,000 international students.
ESN VIKO is a part of the global ESN network. When joining ESN VIKO, the students of Vilniaus kolegija / University of Applied Sciences are invited to become mentors and buddies of Erasmus student exchange to help the students who come to VIKO to know the country and a new culture, make fun events and – most importantly – to have a good and memorable time!
ESN VIKO is a wonderful opportunity to find new friends, help Erasmus students feel at home and explore different cultures and traditions. The students organize cultural evenings, educational trips and excursions to famous places in Vilnius and Lithuania. It gives an insight of how people's differences can get them together. Moreover, participating in ESN VIKO helps to improve communication skills, event planning and just in general makes student life more adventurous and fun!
Become a new member now, by filling in this brief form!
If you have any questions, ideas or concerns, feel free to contact us via Facebook:
See you soon!