STUDIES AND WORK 2021-2022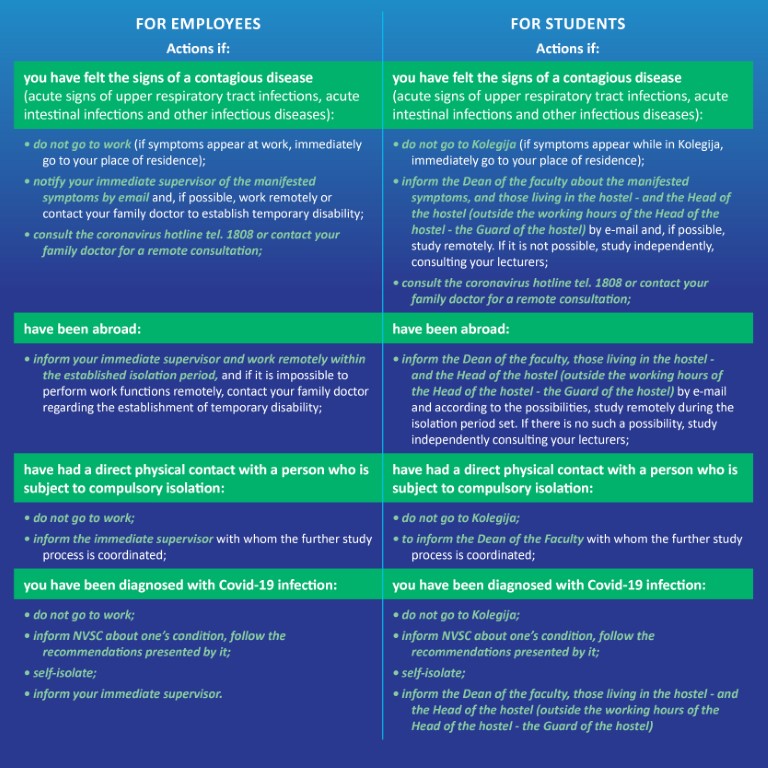 Organization of Studies and Work in Vilniaus Kolegija / University of Applied Sciences in the Spring Semester of the 2021-2022 Academic Year
INFORMATION FOR STUDENTS
All study activities at Vilniaus Kolegija / University of Applied Sciences  are carried out not remotely, except when the study subject (module) or study programme are usually performed online, in accordance with the conditions laid down by the State-level Head of Emergency Operations for public health safety, hygiene and the provision of persons with necessary personal protective equipment, managing the flows of people and maintaining a safe distance,  ensuring public health and hygiene and other related requirements established by the State-level Head of Emergency Operations. Only those members of the community who do not have the symptoms of the virus (including foreign nationals) will participate in the contact study process (with an opportunities' passport or documents provided in the Decision of 21 st April 2021 of the Minister of Health of the Republic of Lithuania and the State-level Head of Emergency Operations No. V-1945 "On the confirmation of persons' compliance with the criteria".
In case of COVID-19, follow the order of the Minister of Health of the Republic of Lithuania " Order of the Minister of Health of the Republic of Lithuania of 12 th March 2020 No. V-352 on the rules for the isolation of persons with COVID-19 (coronavirus infection), persons suspected of having COVID-19 (coronavirus infection) and persons who have been in contact at home, or another place of residence or premises provided by the municipal administration approval, amendment."
Organization of distance learning
Organization of distance learning
Preparation and defence of final theses
Free psychologist consultations
ORGANIZATION OF DISTANCE LEARNING
Distance learning takes place in a virtual learning environment Moodle, Teams, Office365
Lectures, seminars, workshops and other classes on the studied subject (module) are held in direct contact and / or remotely at the time specified in the study schedule
In case of a state-level emergency, student practices in the autumn semester of the 2021–2022 academic year are carried out in accordance with the study plan in compliance with safety and health requirements.
PREPARATION AND DEFENCE OF THE FINAL THESIS
Vilniaus Kolegija/ University of Applied Sciences adheres to the position that additional external circumstances caused by a state-level emergency should not affect the preparation of graduation theses, for example, collecting empirical data, conducting experiments, and analysing sources. In accordance with the safety requirements and prevention of the spread of the virus, the student is invited to meet with the final thesis advisor for consultations on the premises of Vilniaus Kolegija and communicate remotely.
When preparing the final work, the following electronic resources are invited for use: Databases, Electronic Books, Virtual Library.
SUPPORT FOR STUDENTS
             Financial
During the state level emergency, the usual financial support is provided to the students of Vilniaus Kolegija. If you have any questions, please contact the staff of the Study Departments of the faculties.
             Academic
Students are provided with academic support during a state-level emergency. For all questions related to your studies, please contact the lecturers or other responsible staff of the faculties.
Career pursuit
Career consultations (CV, job, practice search, etc.) are provided to students free of charge by Beata Gervickaitė, Head of the Career Centre.
Register by e-mail karjeroscentras@viko.lt
Job and practice ads – Karjera.viko.lt,   Facebook.com/vk.karjera
FREE PSYCHOLOGIST CONSULTATIONS
During a state-level emergency, Vilnius College students and lecturers and other employees can receive free psychological counselling. Students are consulted by psychologist Nomeda Sindaravičienė.
We invite you to apply on weekdays from 8 a.m. to 5 p. m. n.sindaraviciene@mtf.viko.lt  or 8 687 30 095.
The confidentiality of the consultation is guaranteed!
We can always change together what can be changed (thoughts, emotions, behaviours) and learn to live with what cannot be changed.
Where to apply?
In case of technical barriers to connecting to Vilniaus Kolegija/University of Applied Sciences information systems, Teams, virtual learning environment Moodle, please contact the Information Technology Centre by e-mail at itpagalba@viko.lt or the IT Help Centre at help.viko.lt
For distance learning students must first contact the lecturer at email distance@viko.lt
 The responsible staff of the faculties consults on the study process.
Students can contact b.gervickaite@viko.lt for remote career counselling.
Psychologist Nomeda Sindaravičienė provides counselling to Vilniaus Kolegija teachers and students at email n.sindaraviciene@mtf.viko.lt or by mob tel. 8 687 30 095? +370 687 30 095.
INFORMATION FOR EMPLOYEES
In accordance with the decisions of the Government of the Republic of Lithuania and internal decisions of VIKO, work is organized in a mixed way, combining contact and distance work until 31st of December, 2021.
Work in subdivisions must be organized in such a way that it is possible to maintain a distance of at least 1 meter between workers, unless partitions are fitted between the workstations. In cases where the distance referred to in this point cannot be guaranteed, flexible working schedules are recommended.
In the units, physical contact between employees shall be limited, if possible, but if physical contact is necessary, the contact time shall be limited (maximum 15 minutes). When organizing staff meetings, sittings and meetings in the departments, priority shall be given to their organization and conduct at a distance. When organizing a physical meeting, the number of participants must not exceed 30 people.
Face masks should be used to serve visitors and they are also recommended when visiting public areas and other facilities.
It is not recommended for employees to gather in corridors, toilets, kitchens, other common areas, near the shared organizational, etc. equipment, to use the elevator for more than one person at a time. In order to avoid congestion, the lunch break time of the unit staff may be changed in agreement with the head of unit.
Employees are recommended to measure the temperature independently every day before coming to work. The head of the unit must inform the employees where, if necessary, they can measure their temperature at the workplace.
An employee should report directly to their supervisor if any symptoms develop (e.g. fever, runny nose, cough, sneezing, difficulty breathing, diarrhoea, vomiting, etc.) and, if possible, do work remotely or contact the family doctor to establish temporary disability.
If an employee develops signs of acute upper respiratory tract diseases, acute intestinal infections and other diseases at work, he/she must be immediately suspended from work, advised to contact the hotline for coronavirus tel. 1808 or to contact a family doctor for remote consultation;
When an employee or a person with whom the employee has had a direct physical contact is diagnosed with COVID-19, the employee must, as far as it is possible, inform the immediate supervisor.
Employees who, in accordance with the decrees of the Government of the Republic of Lithuania, must be isolated after returning from foreign countries, must work remotely during a certain period of isolation, and if it is not possible to perform work functions remotely, they must contact their family doctor with a statement of temporary disability.
An employee who has had direct physical contact with a person who is subject to compulsory isolation shall inform a direct supervisor, with whom the conditions for the further organization of the employee's work shall be coordinated.
Employees and lecturers, as well as persons participating in the study process, would wear protective equipment (face masks, respirators or other means) covering the nose and mouth in common enclosed spaces.
Priority should be given to remote service of visitors. At the workplace, visitors should be served only if necessary, limiting the number of simultaneously served visitors in such a way that the visitor is allocated at least 10 sq. M. room area or to serve only one visitor at a time.
While waiting, visitors must be at a safe distance of at least 2 meters from each other. If this is not possible, the flow of visitors should be regulated by a person appointed by the head of the unit.
Physical contact of workers with visitors must be limited, if possible, by keeping a distance of at least 2 meters or by separating the workplace from the visitor by partitions.
Only visitors wearing face protection are served.
Due to coronavirus prevention measures and instructions received from the Government of the Republic of Lithuania, changes may be made, therefore, do not forget to read www.viko.lt news and follow the schedules and information received by e-mail.